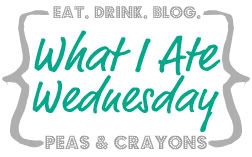 It's that time of the week! Time for my second "What I Ate Wednesday" and a link party with hostess Peas & Crayons.
Yesterday was a very adventurous and exciting food day. But, it started out with this boring item:
Breakfast
I was running late to work, so it was the first thing I could grab. It's Clif Bar's "Crunch"– a granola bar that kind of reminds me of Nature Valley bars. Not my favorite, but it tied me over til lunch.
Lunch
Would you look at that bowl of goodness? This was my attempt at a creative way to use what I had in my fridge, and lucky for me, it turned out great. I sauteed the broccoli and red bell pepper with fresh garlic, a little olive oil and a pinch of salt and pepper. Then, I boiled some water, added the quinoa and cooked for about 10 minutes. I added the veggies on top of the quinoa, sprinkled in some feta, and drizzled a bit of Amy's balsamic dressing. Best part about this lunch other than the fact that it filled me up? It's extremely healthy.
Dinner
Dinner was the interesting part. I went to a tasting at Jorge's Tex Mex to sample their old and new menus. We were seated in a private dining room at a table for 10–all for the food critics and socialites of Dallas.
We ate lots of food, and drank lots of margaritas. They brought us a margarita at the beginning, between each course and at the end for a "dessert". My favorite was the brunch item– the chicken enchilada with an egg on top. I love breakfast food anytime of the day.
And that concludes my exciting day of food! Happy hump day everyone!
Bon appétit,
ThatFoodieGirl